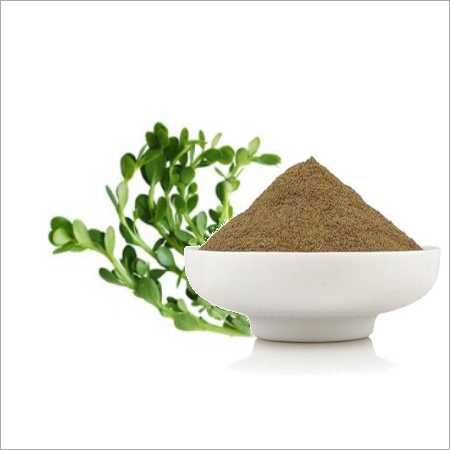 Brahmi Powder
Product Description
Bacopa and gotu kola powders offer the full experience of tasting the herbs and also provide the most economical option for purchasing either form of brahmi. Brahmi Powder. Brahmi is scientifically known as Bacopa monnieri. It a naturally growing creeper usually found in marshy lands. The name Brahmi is related to the Goddess Saraswati, the goddess of wisdom as brahmi is highly valuable because of its mind-enhancing properties.
Brahmi Powder

Brahmi is a creeping herb. This Indian Ayurvedic herb is known for multiple health and medicinal benefits. Brahmi is used as a nerve tonic and an aid to learning. We are devoted towards offering the qualitative range of Brahmi Powder as per client's precise need and requirements. Pooja Traders is Ahmedabad Based Renowned Brahmi Powder Manufacturers, Suppliers in India. Our Powder are widely demanded in medium and large sized enterprises in all over india.
Specification of Brahmi Powder:

Scientific Name: Bacopa monnieri (L.) Wettst.

Family: Scrophulariaceae (figworts)
English Name: Thyme-leafed gratiola, water hyssop.
Hindi Name: Brahmi, baam, brahmi, jalbuti, jalnim, nirbrahmi, safed chamani
Gujarati Name: baam, brahmi, jalanevari, kadavi luni
Sanskrit Name: brahmi, tiktalonika
Other Name: Bacopa monniera, Herpestis monniera, or Moniera cuneifolia Botanical
Uses of Brahmi Powder

Brahmi is used to treat pain due to nerve problems
It is traditionally used to treat skin problems
it improves the body metabolism
Brahmi has anti-inflammatory activity
used to improve the symptoms associated; cough, colds, bronchitis and asthma
Also used for stomach problems
For hair and scalp care
Traditionally used to treat skin problems
Product Details:

| | |
| --- | --- |
| Minimum Order Quantity | 25 Kilogram |
| Form | Powder |
| Packaging Size | 1 Kg |
| Grade Standard | Food Grade |
| Packaging Type | Packet |