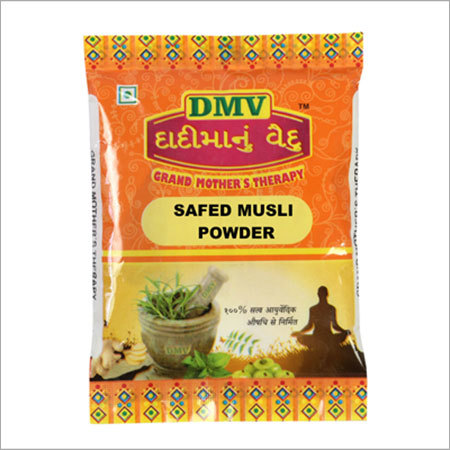 White (Safed) Musli Powder
Product Description
White Musli Powder
Keeping in mind the ever-evolving needs of our clients, we are devoted towards offering an optimum quality array of White Musli Powder. This product is renowned all across the nation for its quality and effectiveness.
Pooja Traders is renowned Safed (White) Musli Powder Powder Manufacturers, Supplier in Ahmedabad, India. We prepare these products under the constant supervision of our team of professionals. It has many names which are White Musli, Indian Spider Plant, Chlorophytum Borivilianum, Swetha Musli, Asparagus Adscendens and Dhol Musli and safed musli. White Musli (Chlorophytum Borivilianum) Powder is benefit for Diabetes & Fever, White Musli (Chlorophytum Borivilianum), also called Safed Musli.
Safed Musli have rich source vitamins and about more than 25 alkaloids, beside this it have proteins, steroids, polysaccharides and carbohydrates. It is most important herb described ayurveda for vigorous. Safed Musli is also gaining increasing acceptance as a vitalizer and health-giving tonic, a curative for pre-natal and post-natal problems, a restorative for immunity-improvement and as a remedy for diabetes and arthritis.It is a herb that can boost the immune system.
Specification of White Musli (Chlorophytum Borivilianum) Powder:
Botanical Name: Chlorophytum Borivilianum
English Name: Chlorophytum, Indian Spider Plant, White Musli
Hindi Name: Musli, Safed Musli, Safed Moosli, Dholi Musli
Sanskrit Name: Musali, Swetha Musli
Other Species: Chlorophytum Tuberosum, Chlorophytum Arundinaceum, Chlorophytum Malabaricum, Chlorophytum Attenuatum, Chlorophytum Breviscapum
Tips To Use Safed Musli For Good Health!
If you a breastfeeding mother or a pregnant lady, then it is advised to ignore consumption during the time period
It is advised to take 16mg to 32mg per kg body weight
Avoid the overdose and go with the instructions written behind if you are using supplements
Consult the doctor before starting on consuming for better results as Safed Musli is one subject which is not passed by Food and Drug Administration or FDA yet.
The Roots of Musli herb contains following nutrients and photochemical.
Carbohydrates
Proteins
Saponins
Alkaloids
Fiber
| | |
| --- | --- |
| Application | Cooking |
| Packaging Size | 100 gm to 1 Kg |
| Moisture | 1-3% |
| Form | Powder |